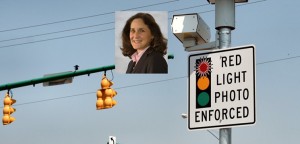 It's no secret we think automated enforcement is illegal and a corrupt manifestation of government overreach. We've been banging that drum since we started the Ticket Assassin back in 1998. So, it's nice to get some vindication:
Karen Finley, former CEO of the Phoenix-based Redflex Traffic Systems, pleaded guilty today in federal court to an eight-year bribery-and-fraud scheme that helped the company retain photo-enforcement contracts with two Ohio cities.

Finley, 55, of Cave Creek, pleaded guilty before U.S. Magistrate Judge Terence P. Kemp of the Southern District of Ohio to a charge of "conspiracy to commit federal programs bribery and honest services wire and mail fraud," the U.S. Department of Justice announced this morning.
She obvious takeaway is that these red light camera ticket companies like Redflex are more corrupt than Florida Governor Rick Scott.